We recommend using a 3M 9312 series foldable dust mask (respirator) with 3-panels as protection from the sanding dust. These dust masks protect against fine dust, the particles of which have a diameter greater than 0.5 microns.
3M 9312 series dust masks are placed conveniently on the face, have a low breathing resistance, and do not require maintenance. The two-piece headbands, foamed plastic nose panel and aluminium nose clip ensure air-tightness. The headbands (headbands for 3M 9312 series dust masks are yellow) maintain a constant pressure and provide a solid placement of the mask irrespective of the head circumference. Thanks to the soft inner surface of the material, the dust mask's contact with the skin is pleasant and the dust mask is comfortable to wear. Dust masks are packaged individually to avoid contamination during storage.
The nominal protection factor of the 3M 9312 series dust mask is 4 x OEL (Occupational Exposure Limit) and efficiency is 78%. Weight of the dust mask with valve is 15 grams. The valve makes exhalation easy and lets moist air out of the dust mask. Wearing such a dust mask allows you to communicate with colleagues, and during work breaks the dust mask can be easily fold.
The price of the 3M 9312 series dust mask is 1.79 EUR/pcs. The package is 10 pieces and packed in a box is 120 pieces. This month's product discount is 10%.
Above all, you must learn to use this dust mask correctly: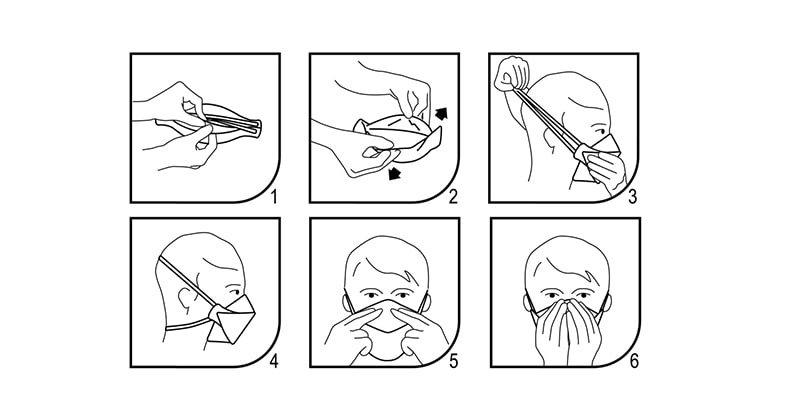 Use the dust mask only in a room that has enough oxygen for the organism to survive. Do not use the dust mask if the air pollution is directly hazardous to health and life. Replace the dust mask and throw away the old one, when it is damaged or breathing resistance becomes too high, also at the end of the work shift.
Innovative foldable 3M 9312 series dust masks are lightweight, efficient, comfortable and hygienic protective equipment.